H250 M40
Variable area flowmeter for liquids and gases
Modular design: from mechanical indicator to 4…20 mA/HART®7, FF, Profibus-PA and totalizer
Any installation position: vertical, horizontal or in fall pipes
Flange: DN15…150 / ½…6"; also NPT, G, hygienic connections, etc.
-196…+400°C / -320…+752°F; max. 1000 barg / 14500 psig
H250 M40 – Standard version with flange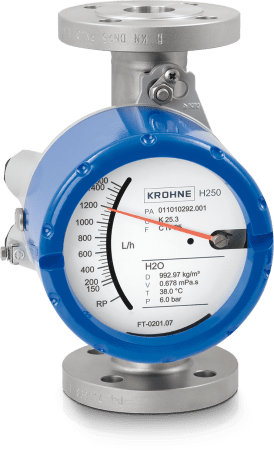 The H250 M40 is the standard variable area (VA) flowmeter for the process and OEM industry. The VA meter combines mechanical flow measurement of liquids or gases with state-of-the-art communication capabilities. The device is modularly extendable. Additional electronic modules can be added or replaced at any time without process interruption. In this way, its functionality adapts to new requirements – from analogue flow measurement without auxiliary power to digital integration into a fieldbus system.
The H250 M40 is available in various materials and in many different versions. The sturdy all-metal flowmeter can be also used in applications with high pressures (up to 1000 barg / 14500 psig), temperatures (-196…+400°C / -320…+752°F) or aggressive media. It even allows installation in horizontal or fall pipes up to DN150 / 6". A special version for use in hygienic applications is also available. The H250 M40 is intrinsically safe and explosion-proof. Certain variants of the flowmeter with limit switch or analogue output are suitable for use in Safety Instrumented Systems (SIS). Electronic device diagnostics and additional application diagnostics are available to increase application reliability, e.g. the detection of a float blockage due to impurities or pressure surges and the reporting of pulsating flow or gas compression oscillations of the float.
Product highlights
Simple, low-cost installation: able to measure and display without auxiliary power supply
Unique modularity and serviceability: Limit switches, 2-wire 4…20mA, totalizer with LCD and pulse output, fieldbus interfaces
NE 107 device and application diagnostics with CFM (Continuous Float Monitoring), e.g. for float blockade detection
Universal ex-concept: Explosion proof and intrinsically safe
Various stainless steel and alloy sensor materials
Optional stainless steel housing for corrosive atmospheres
Ingress protection IP66 and IP68 / NEMA4X and NEMA6, IP69K optional
Full scale value for liquids: 10…120,000 l/h / 5…32,000 GPH
Full scale value for gases: 0.7…2800 m3/h / 25…100,000 SCFH
Turndown ratio 10:1 (optional 100:1)
Maximum measuring error: ±1.6% (acc. to VDI/VDE 3513-2) or ±1.5% of full scale
Suitable for use in Safety Instrumented Systems with SIL 2, in redundant design (1oo2) also in SIL 3 applications (type A device)
Optional hygienic design for use in the food and pharmaceutical industry
Typical applications
Chemical and other process industries
Additives (e.g. catalysts, tensides, foam inhibitors, emulsifiers)
Acids, bases, phosgene and other chloridic substances, sulphuric substances
Condensate and cooling water
Nitrogen inertisation of vessels and tanks
Sample flow monitoring for process analysis
Gas sparging in liquids
Oil and gas industry
Injection skids for corrosion-, scale- and hydrate-inhibitors
Nitrogen, flue gases etc.
Emulsifiers
Machinery and apparatus (OEM industry)
Gas seal monitoring for compressors
Coolants and cooling water, lubricants, air supply
Dry-run prevention of pumps
Gas and oil measurement for industrial furnaces
Pharmaceutical industry
Demineralised water, alcohol, solvents, insulin etc.
Cleaning agents
Air measurement in clean rooms
Food and beverage industry
Vegetable oil, drinking water, milk, carbon dioxide
Cleaning agents
Water and wastewater industry
Oxygen sparging into aeration basins
Air injection to reduce iron content
Conventional and nuclear power industry
Heavy water, borated water, tritium etc.
Hydrazine
Sulphuric acid
Phosphate, nitrogen, hydrogen, sulphur
Purified water, saline water etc.
Steam, air, gases, boiler washing water etc.
Diesel, return fuel oil flows etc.
Product variants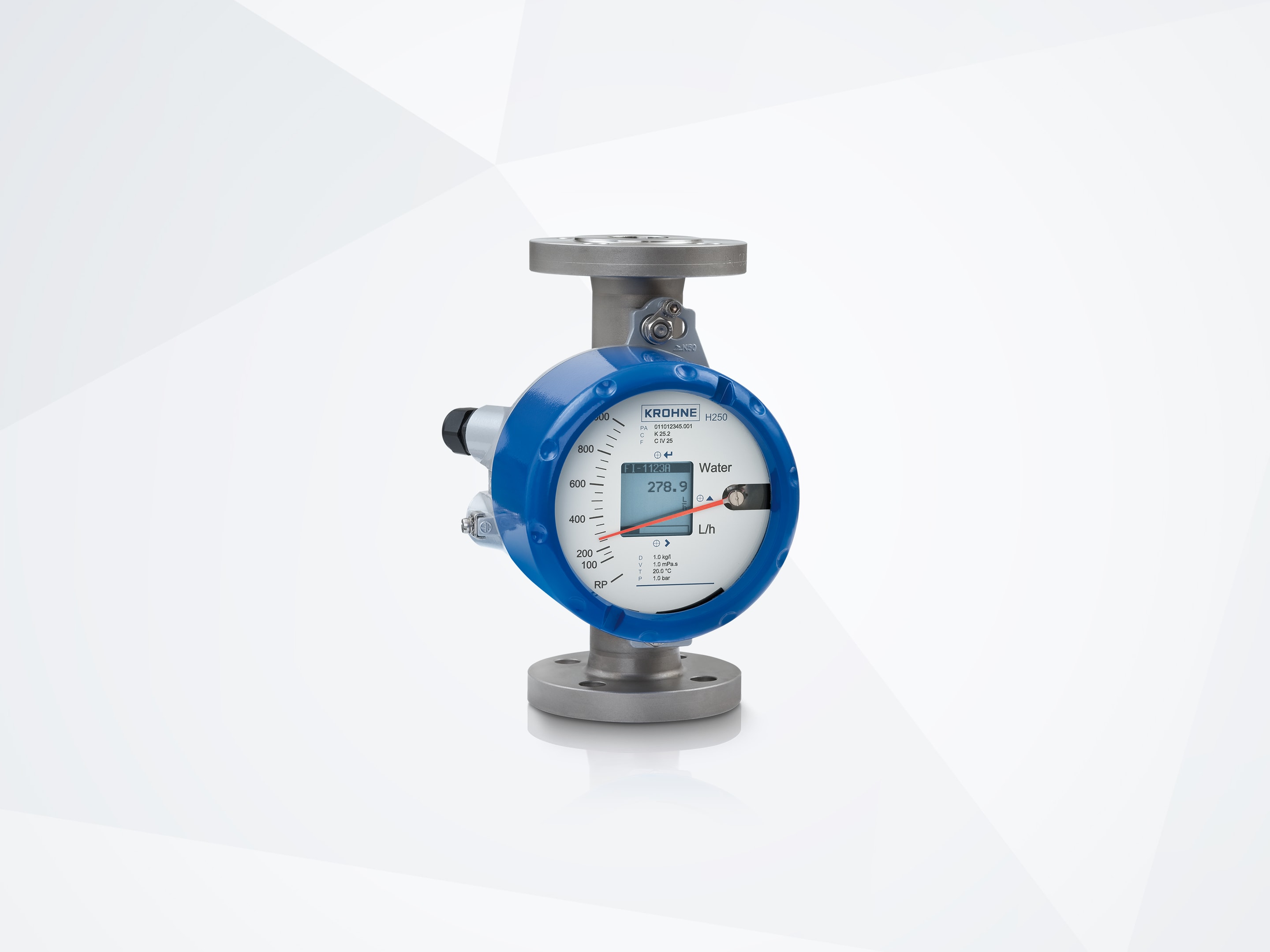 H250 M40
Standard
Variable area flowmeter for all standard applications with gases and liquids
Modular electronic design for upgrade and replacement on site
Globally approved for use in hazardous areas for globally acting chemical end users and OEM
SIL 2 conform acc. to IEC 61508-2
Flanged, threaded, clamp or welding connections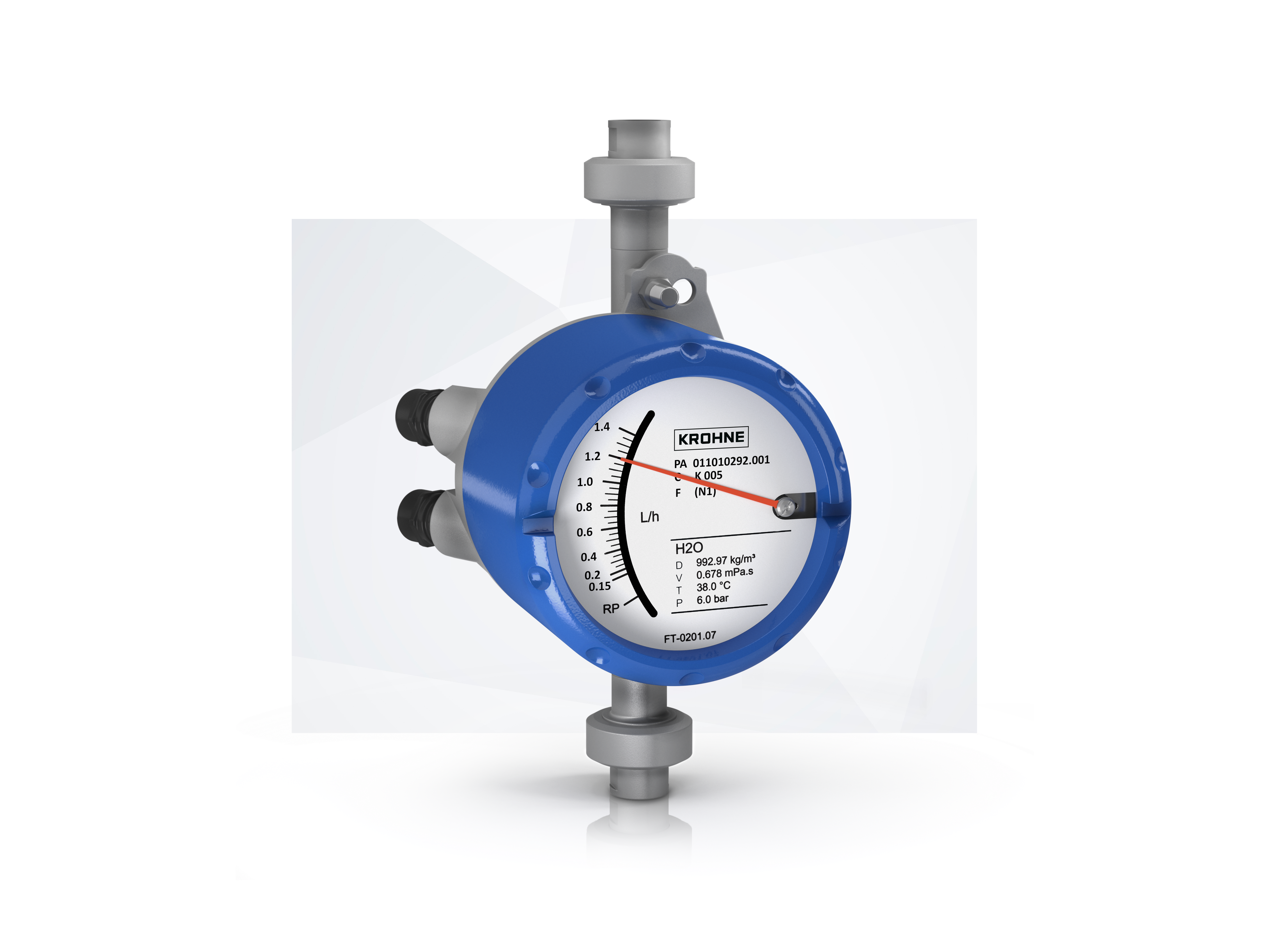 H250 M40 Low Flow
Variable area flowmeter for low flow applications
Unique design for low flow rates
Full scale value down to 1.5 l/h / 0.04 GPH (liquids) or 16 Nl/h / 0.6 SCFH (gases)
Modular electronic design for upgrade and replacement on site
Globally approved for use in hazardous areas for globally acting chemical end users and OEM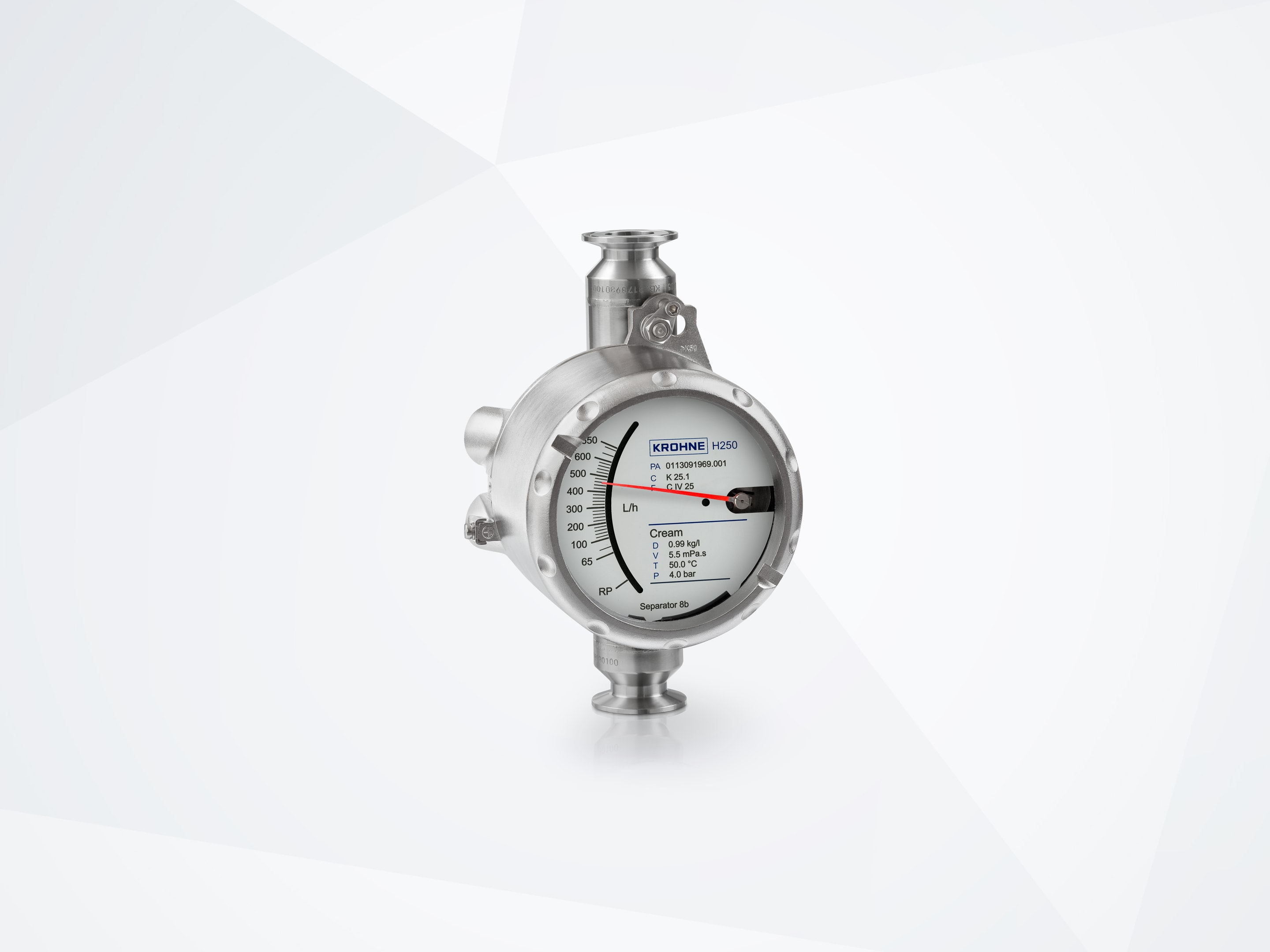 H250F M40
Variable area flowmeter for food and beverage applications
Hygienic stainless steel design without dead spaces and stagnation zones
Hygienic clamp, threaded or flanged connections
Surface roughness: Ra<0.8 (optional 0.6)
For use with SIP and CIP agents up to +200°C / +392°F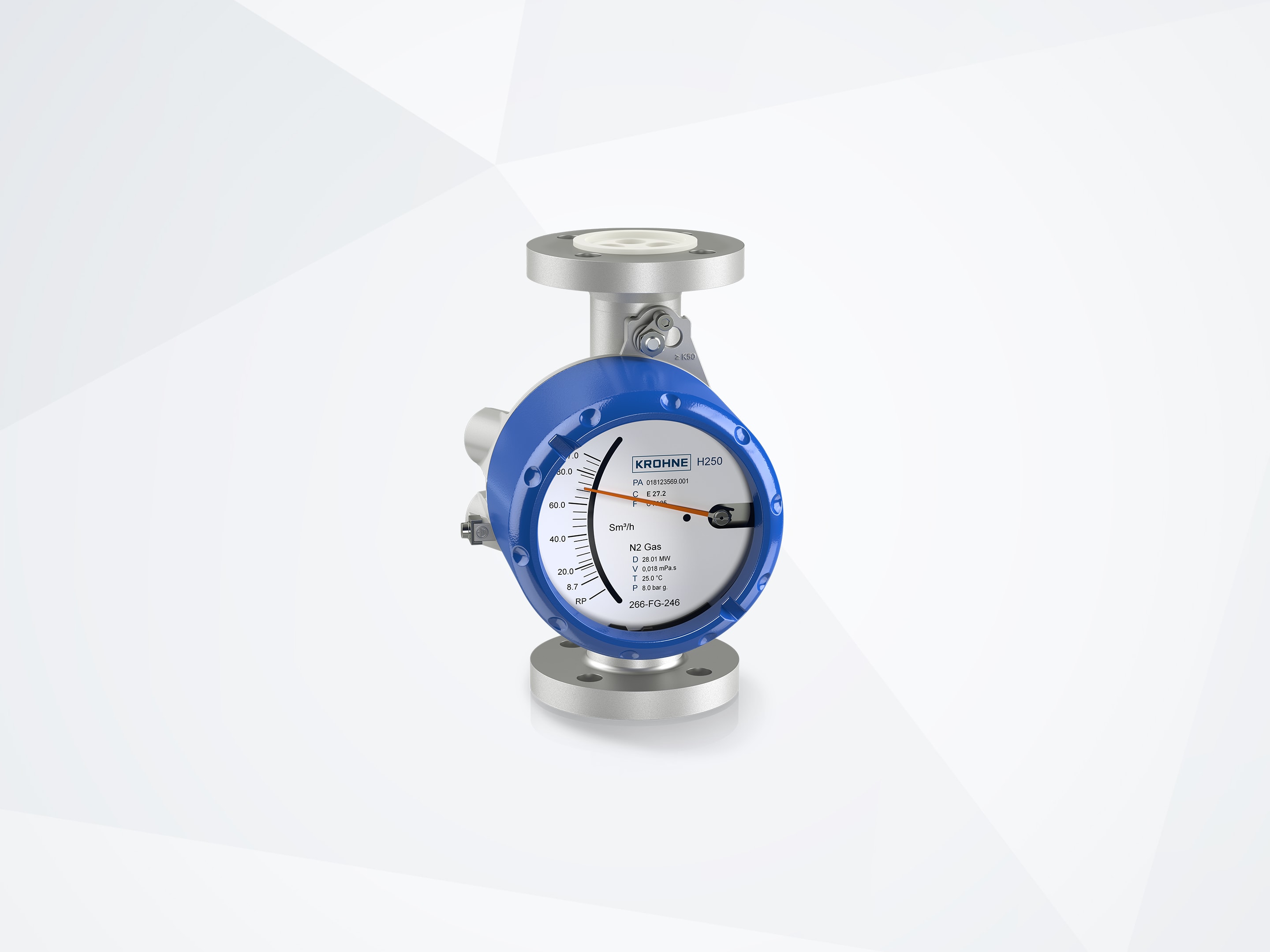 H250C M40
Variable area flowmeter for aggressive acids and bases
With wetted components made of PTFE or ceramics
Accuracy: ±2.5% (acc. to VDI/VDE 3513, sheet 2)
Up to +250°C / +482°F (with TFM /ceramics)
Liquids up to 60 m3/h / 15850 GPH; Gases up to 350 Nm3/h / 220 SCFH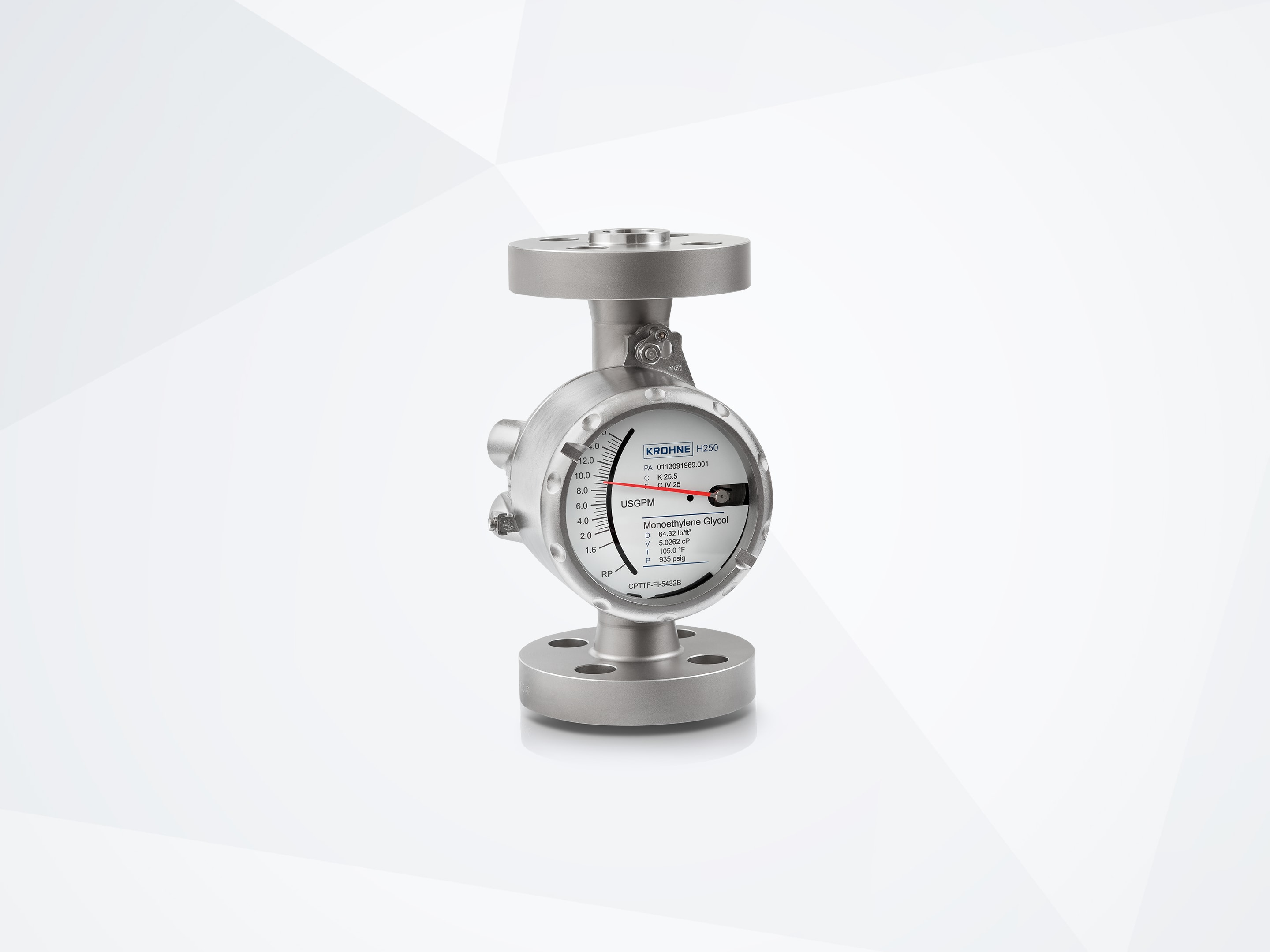 H250 M40R
Variable area flowmeter for oil and gas applications
For extreme pressure conditions up to 900 barg / 13,000 psig
Heavy duty design with NACE MR0175 / MR0103 compliant 1.4404 / 316L standard material; optional with NORSOK compliance
Also available with Hastelloy®, Monel®, Inconel®, 6Mo or titanium
Explosion-proof (Ex-d) and intrinsically safe (Ex-i) design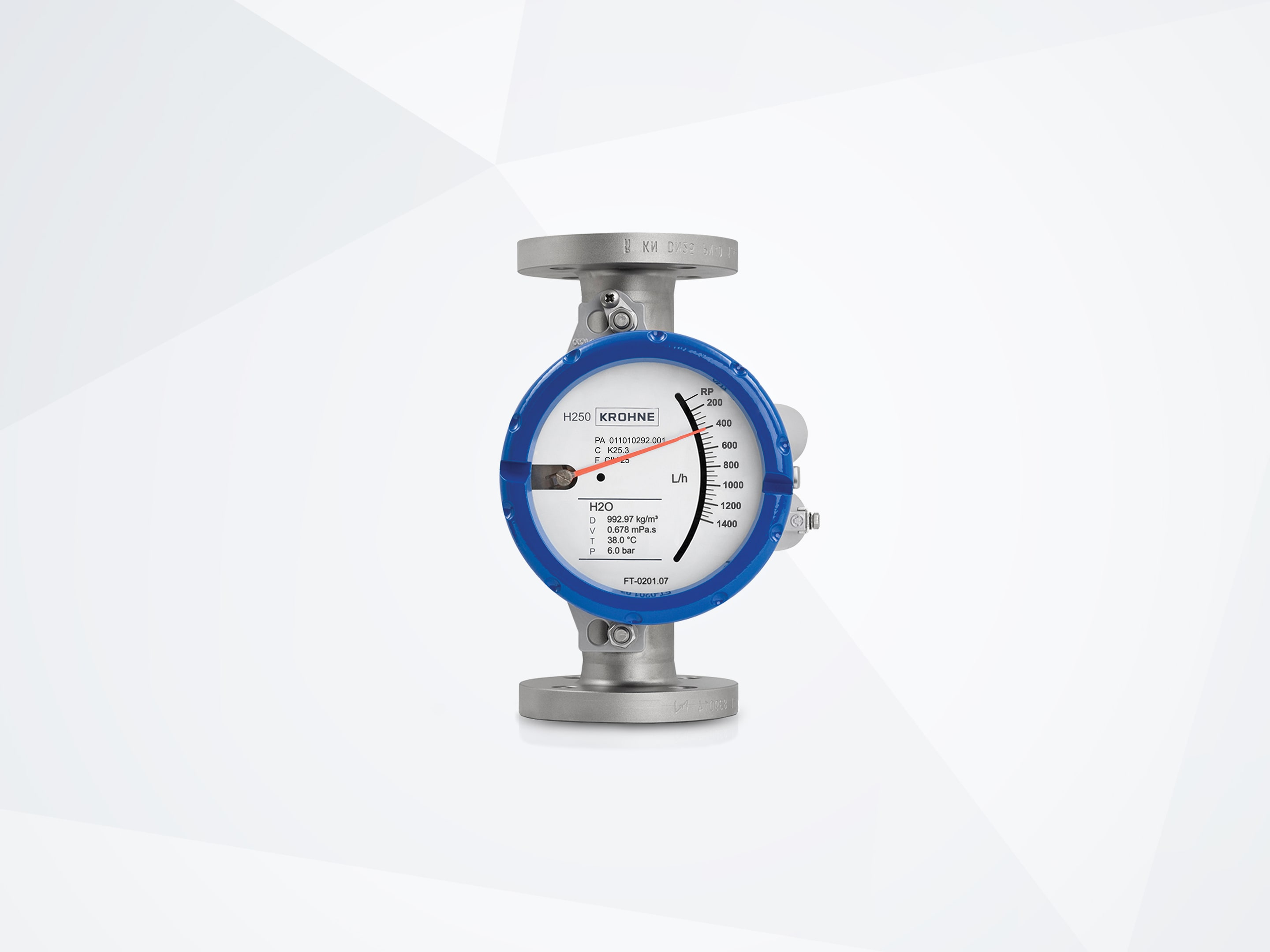 H250U M40
Variable area flowmeter for installation in fall pipes
Unique design for vertical (upside down) installation position
Accuracy: ±2.5% (acc. to VDI/VDE 3513, sheet 2)
Up to +200°C / +396°F (with Hastelloy® spring)
Up to DN50 / 2"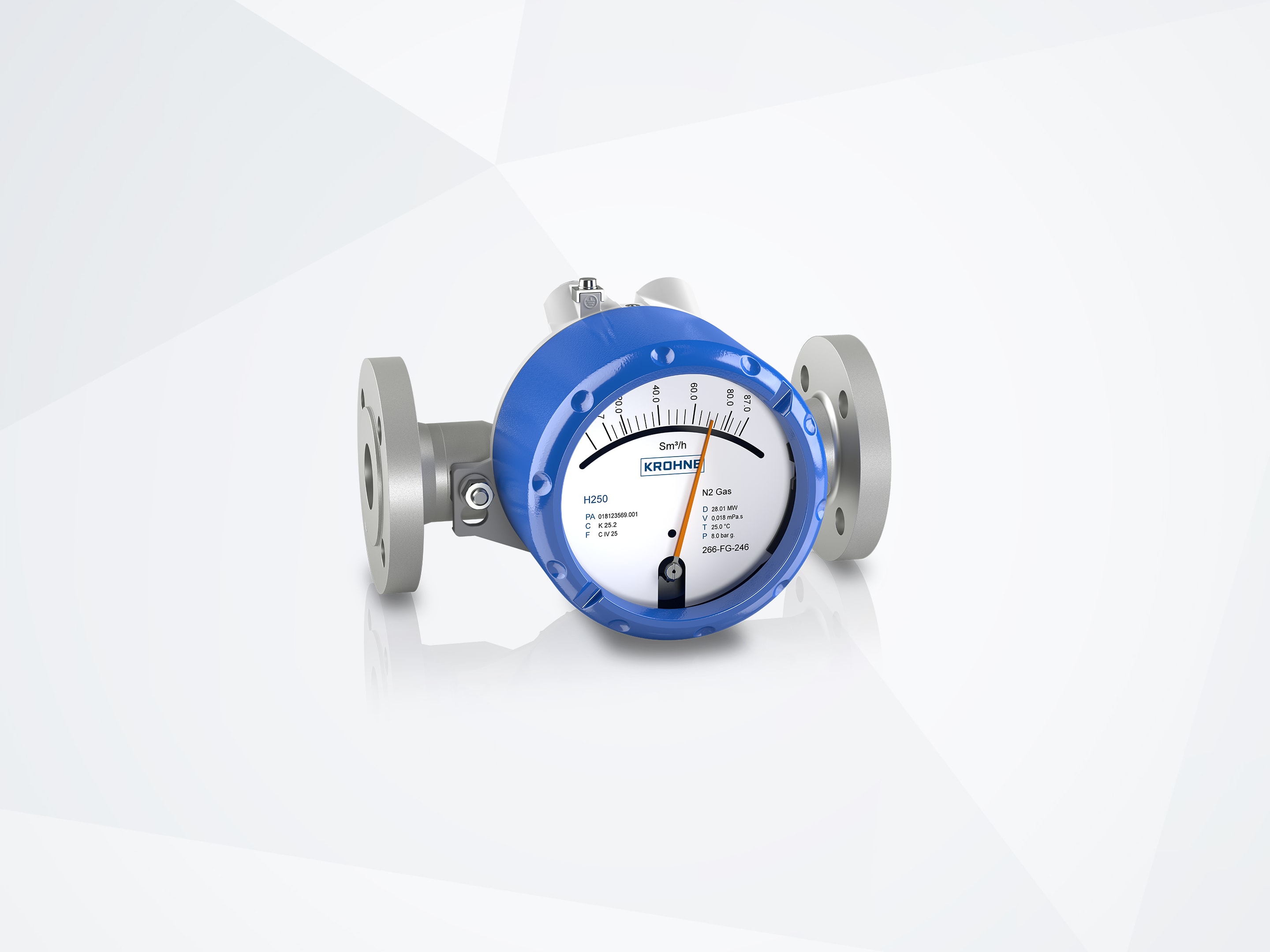 H250H M40
Variable area flowmeter for installation in horizontal pipes
Unique design for horizontal installation position
Accuracy: ±2.5% (acc. to VDI/VDE 3513, sheet 2)
Up to +200°C / +396°F (with Hastelloy® spring)
Up to DN100 / 4"
Accessories for this product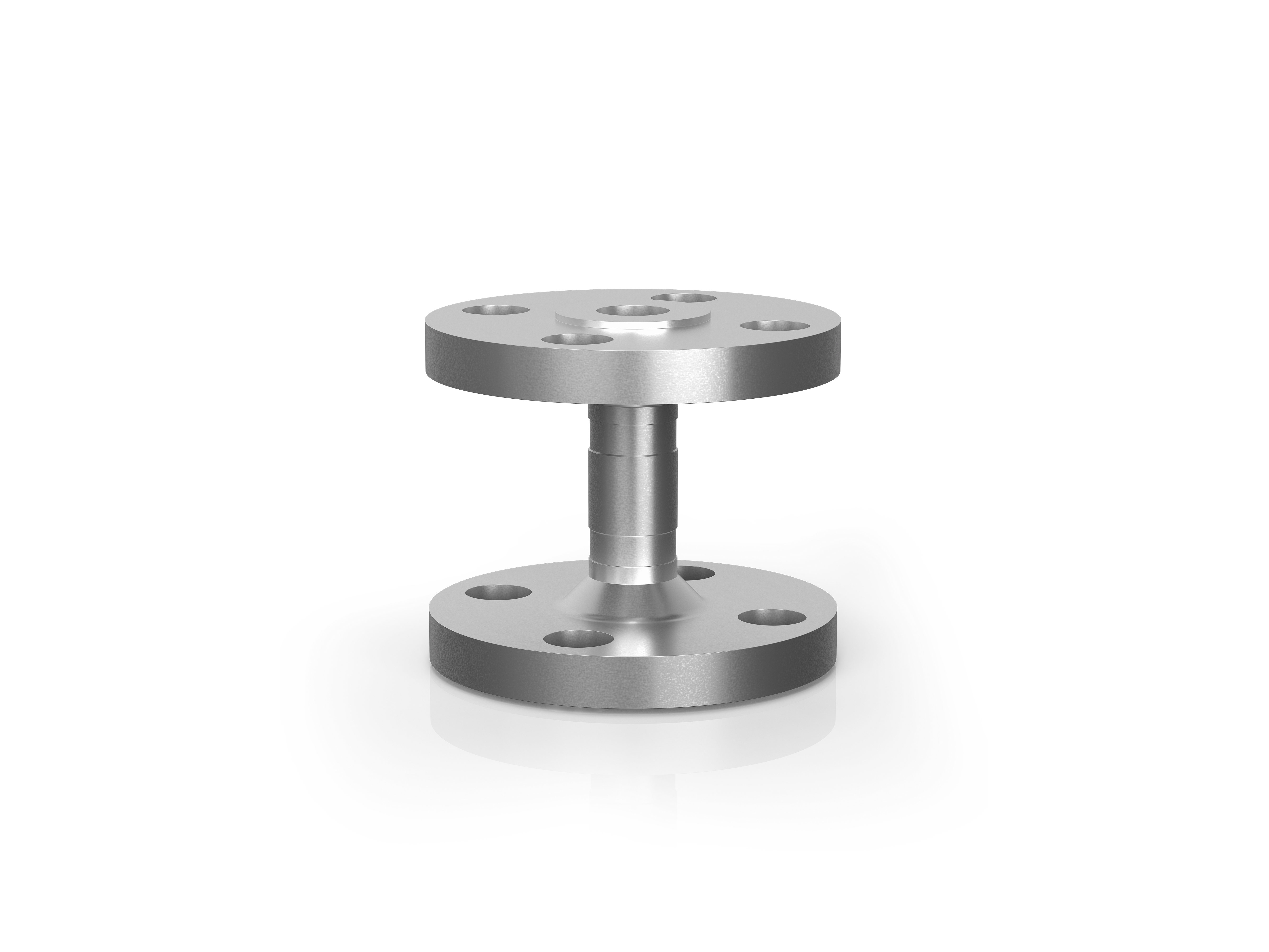 Magnetic filter – type F
Flange version for H250 variable area flowmeters
With corrosion resistant PTFE coated magnets
Eliminates the impact of particles in the medium which can be magnetically influenced
DN15…150 / ½…6″, max. +250°C / +482°F; length: 100 mm / 4″
Flange and housing material: Stainless steel 1.4404 / 316L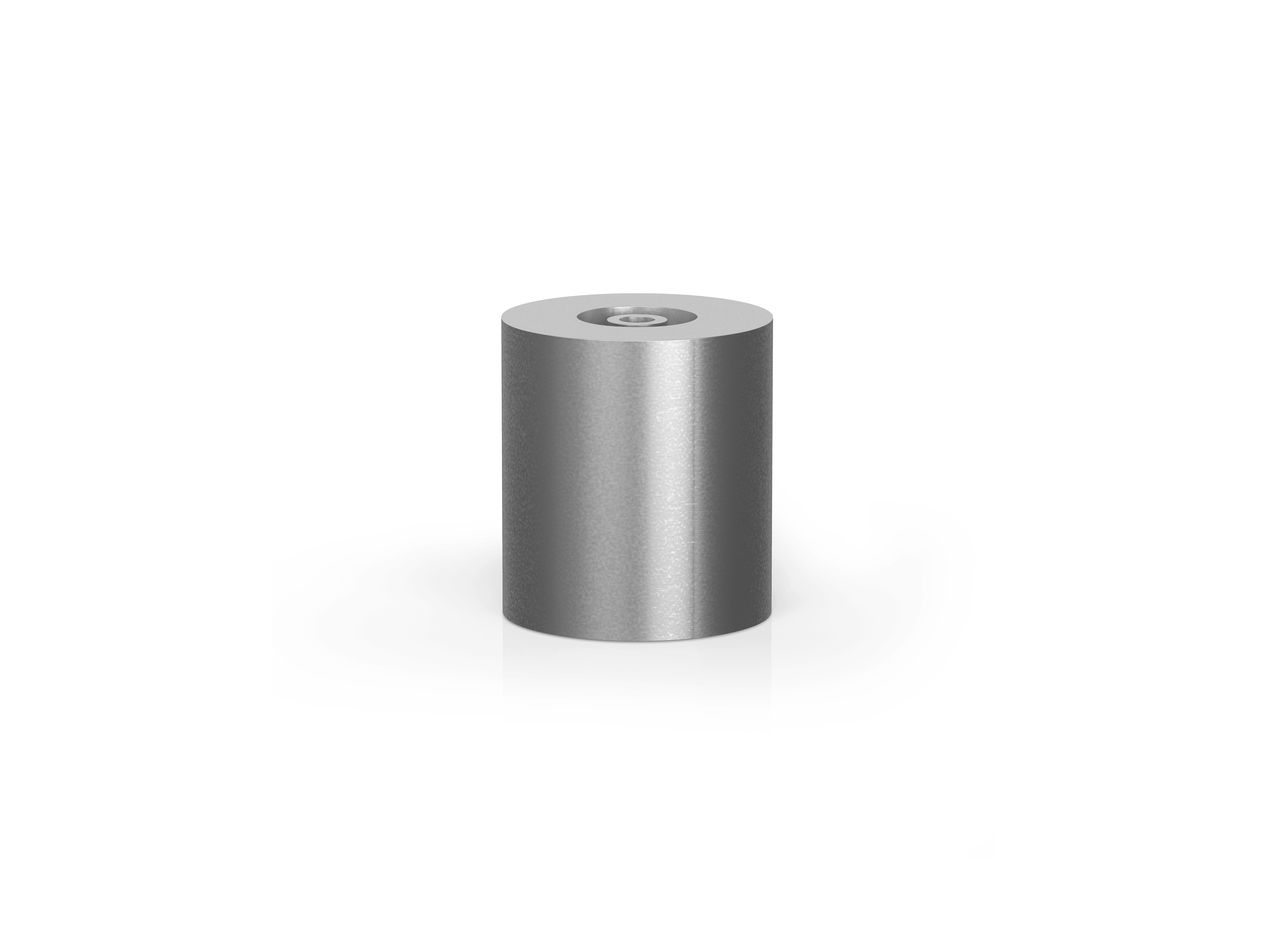 Magnetic filter – type FS
Sandwich version for H250 variable area flowmeters
With corrosion resistant PTFE coated magnets
Eliminates the impact of particles in the medium which can be magnetically influenced
DN15….80 / ½…3″, max. +250°C / +482°F; length: 50 mm / 2″
Housing material: Stainless steel 1.4404 / 316L
Download Center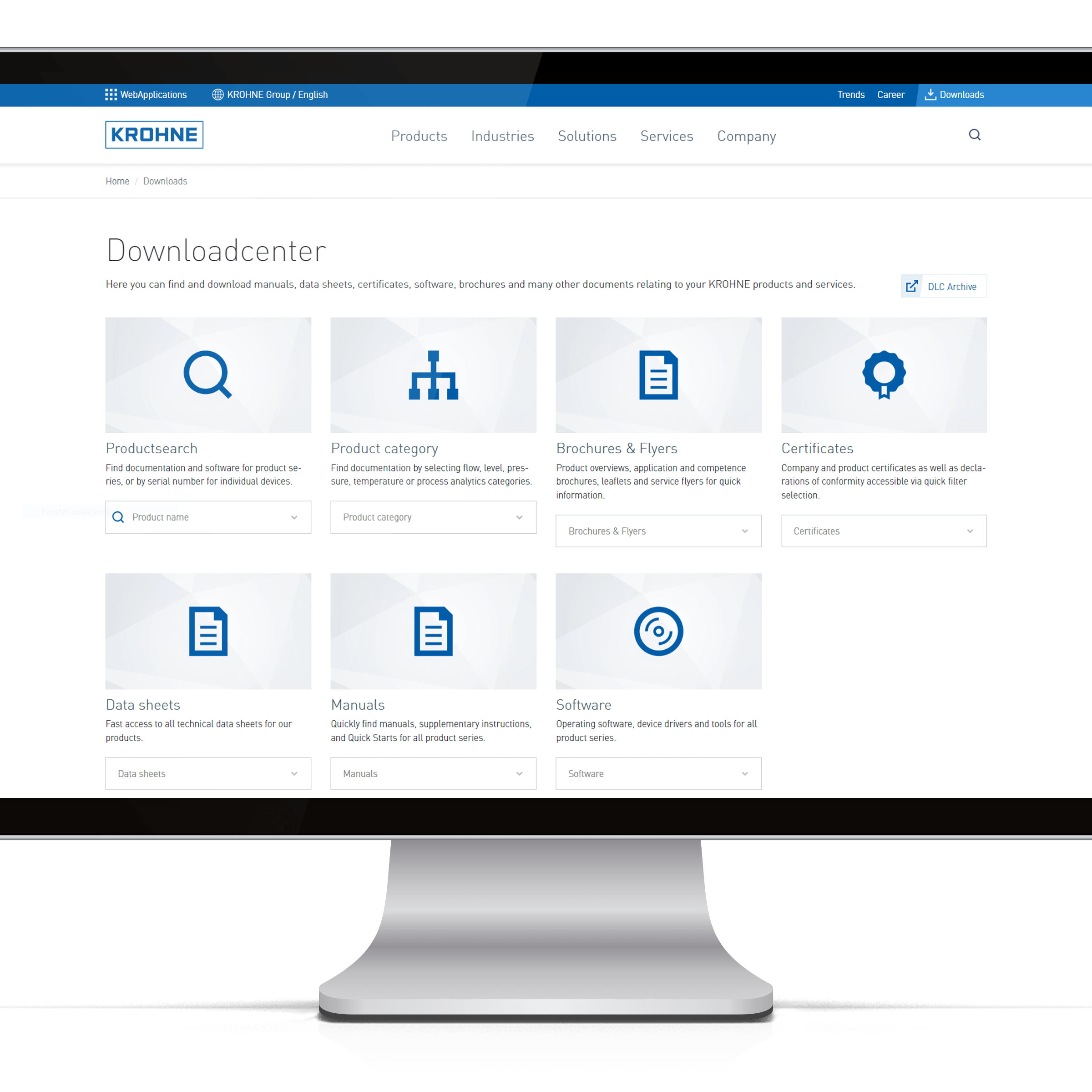 H250
Download Center
Technical datasheets and handbooks
Flyers and brochures
Certificates and approvals
Software and driver